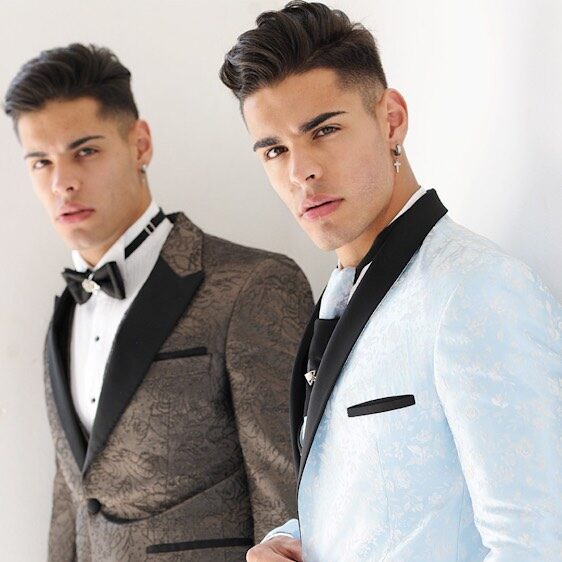 Dario Caballero and Denis Caballero, popularly known as the Caballero Twins or Gemelos Caballero, have made a mark in the world of modeling and social media. Born on March 12, 2001, in Rio Tercero, Córdoba, Argentina, these identical twins have a fascinating story that started in a humble yet loving family with a passion for sports, especially football, from a very young age.
Growing up in a large family with limited resources, the twins were instilled with strong values and principles by their parents, which became the foundation for their journey. Their shared love for sports and the healthy competition that came with being twins served as a constant driving force for self-improvement.
Their interest in modeling piqued when they were around fourteen years old, driven by a growing fascination with aesthetics and personal grooming. People began to notice their potential as models due to their improved height and physical fitness. Their modeling journey took a significant turn when they were mentored by Alfredo Blanco (@ab.one), a talent scout and international manager of models, artists, and influencers.
At the age of 17, they were approached by the prestigious international agency, Podium Talents, marking a pivotal moment in their lives. They seized the opportunity and embarked on professional modeling training, both nationally and internationally, through transformateya.online.
Their journey into the world of social media began in parallel. Initially, they explored various niches but found their niche in comedy and synchronized dances, utilizing their uniqueness as identical twins. Despite starting with limited resources, their creativity and determination propelled them to improve their content continuously.
Their content on TikTok went viral, particularly their synchronized movements, mirroring each other, which captivated audiences. Another early viral video was a dance they performed at the iconic Obelisco in Buenos Aires, showcasing their talents to the world.
As their social media presence expanded, their content diversified to include modeling, aesthetics, acting, and a focus on healthy living. They also ventured into travel content, a passion of theirs, exploring and sharing experiences from different parts of the world.
Their creative process involves being open to ideas, following trends, and incorporating feedback from their followers. They prioritize interaction with their audience, valuing their feedback and using it to shape their content.
The twins do not have specific models they look up to; instead, they strive to remain authentic and true to themselves while being influenced by various sources.
One of their biggest challenges was leaving their family and country to pursue their dreams. The sacrifice and dedication required to focus on their careers and avoid distractions was demanding but rewarding.
Some of the most memorable moments in their careers include working with renowned brands, traveling internationally, and the overwhelming love and support they received from people around the world.
Balancing personal and professional life is relatively easy for them as their passion for their work makes it feel more like entertainment than a job. They emphasize the blessing of working in a field they love.
Aside from their careers, the twins enjoy spending time with family and friends, engaging in sports, dancing, watching movies, and educating themselves through documentaries and other informative sources.
Their future aspirations involve reaching a global audience and expanding their reach, especially in new territories. Hollywood is a significant goal for them, aspiring to make a mark in the international entertainment industry.
Their advice to aspiring individuals is to never stop dreaming, remain persistent, and seek support from loved ones. They encourage others to overcome fears and pursue their passions relentlessly.
Having recently made Spain their home, the twins are excited about the opportunities and experiences this European venture will bring. Spain's rich culture, historical sites, and picturesque beaches have already left a lasting impression on them, influencing their content and inspiring their artistic pursuits.
To follow the Caballero Twins and explore their creative content, you can connect with them on their various social media platforms:
These links will allow you to stay updated with their latest content and follow their exciting journey.